Rovaniemi, Finland

Rovaniemi - the Capital of Lapland in the Arctic Circle

Rovaniemi is located in the Arctic Circle 5.0170 N, 25.4670 E. An international,developing town of
business, administration and education, is located at the confluence of Lapland's mighty rivers
Kemijoki and Ounasjoki. As the capital of the province, Rovaniemi has always been a gateway
to Lapland.

Rovaniemi has maintained contact with the surrounding countryside but the urban infrastructure
creates opportunities for deveploment and also provides versatile educational and cultural
facilities. Within 10 kilometers from the city centre you can find undisturbed nature or a busy
international airport. Rovaniemi remembers its past but is not afraid to look into the future.
People enjoy living here and are also friendly towards visitors.

The four seasons make our conditions quite unique. In the short summertime the sun shines
through the night and in the autumn the colours of the nature are wonderful. After the blue
moments of the darkest wintertime you can enjoy the sun shining brightly in the spring. Here the
sky is blue, water is clear and the snow is as white as crystal.

Welcome to Rovaniemi!


Reaching Rovaniemi, Finland
For more information on Rovaniemi and for maps, please consult the city home page in English.

Travel & Transportation
There are frequent flights to the capital, Helsinki, of many European cities. Rovaniemi is a 1-hour
flight or over night train from Helsinki. Airport is 10km (15 min by taxi) north from city and Railway
station is in city center.
Travel Contacts

AREA (Travel agency)
http://www.area.fi/
Tel + 358 (0)10 818 9251

Finnair
http://www.finnair.com/
Tel +358 9 818 8383

Blue1
http://www.blue1.com
Tel +358 20 386 000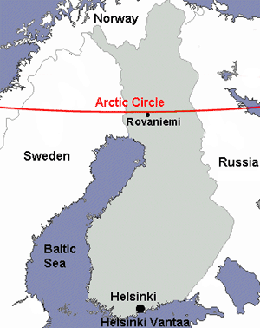 VR Ltd Finnish Railways
http://www.vr.fi/
Tel +358 9 707 5700

Scandia Rent
http://www.scandiarent.fi/
Tel +358 (0)16 3420506

Taxi
Tel +358 (0)16 106 410.


Airport Taxi
Cars available at the airport when
flights arrive. Airport Taxi transports
in the city area and the surroundings.
Fee 9€/person, takes more than one
customer at the same time.
Tel +358 (0)16 - 362 222.

Airport Express
Mini-bus from airport to the city centre
and back - drives to all the centre
hotels as well as the bus station, ca.
15 minutes, fee 5 €/person. Airport
Express departs from the airport
immediatelyafter every Finnair flight
arrival. Check your hotel reception
about the pick-up time from your hotel
back to the airport
Tel +358 (0)16 362 222.

Hotels
About hotel reservations,
see registration -page.